Bangi Golf Resort Durian Festival and Awards 2018 Is a Huge Success
Bangi Golf Resort's inaugural durian festival and durian judging competition was launched on 4th August 2018 with a series of durian-focused activities for durian lovers and durian producers. Organized by a special committee led by Mr Tan Ban Keat, F&B think tank FoodCult and the team at Bangi Golf Resort; the programme incorporated a Durian Farmers' Market, Durian Knowledge Forum, World Durian Championship 2018: Malaysia Edition and Durian Fiesta. The event was officiated by Minister of Agriculture, Y.B Dato' Haji Salahuddin Ayub represented by his Political Secretary Encik Ahmad Sabki Bin Yusof and included a walkabout at the Durian Farmers' Market and world Durian Championship 2018: Malaysia Edition.
As an affirmation of their commitment to incorporate technology with agriculture under a hospitality platform, BGR signed a memorandum of understanding with MARDI and REDtone respectively, and Encik Ahmad Sabki Bin Yusof was present as witness.
With MARDI, both organizations pledged to collaborate pertaining to Horticulture, Mechanization and automation, Composting technology, Food technology and processing, Food lost and waste as well as Agro-tourism. Simultaneously, BGR will develop IoT and smart agriculture solutions alongside REDtone.
In the spirit of community building and to show solidarity with country, all profits from BGR Durian Festival & Awards 2018 were donated to Tabung Harapan Malaysia.
Mr Tan Ban Keat, "It was always our intention to bring the community together through our shared love for durians. To have the ministry's support for the BGR Durian Festival & Awards, and to be able to give back to our community surpassed our wildest dreams while we were organizing this initiative."
"Through this event, tha public had the opportunity to learn about rare durian hybrids and we hope that they have gained a deeper understanding into the world of durians." said Jenny Tan, Foodcult.
Soh Chung-ky, the Director of BGR, said that "This was a great opportunity for durian farmers to showcase their best products and for the public to savour the best durians Malaysia has to offer. We hope next year will be an even greater success."
World Durian Championship 2018: Malaysia Edition
The inaugural World Durian Championship 2018: Malaysia Edition saw durians from all across Malaysia competing in five (5) categories: Best Musang King (D197), Best Blackthorn (D200), Best Tekka (D160), Best D24 and Best Open Series Durian (for all other species not included in the former categories).
The judging panel for this Championship included luminaries in the culinary and durian industry and comprised of:
Mr KF Seetoh
A prominent commentator, entrepreneur, photographer, TV Culinary host and a pubilsher
Mr Hew Chen Choi
Founder of "AKU Semaian & Dusun Hew" and a well-respected figure in the durian industry
Ms Julie Wong
Former editor of The Star and Flavors magazine as well as the author of an award-winning cookbook.
Madam Shen
Madam Shen helped to open up  China market for Malaysia's Durians. With more than 10 years experience in the Durian Industry under her belt, she shares information and educates the Chinese market on Malaysia's Durians.
Chef Bob Kamaruddin
Executive Chef of MAS Awana and is also the President of the Professional Culinaire Association (PCA) in Malaysia.
Ms Lindsay Gasik
Founder of 'Year of The Durian' site and author of two durian books.
Durian Farmers' Market
More than 4,000 visitors also experienced handpicking and tasting the freshest and best durians at the Durian Farmers' Market, where durian farmers across Malaysia put up their crops for sale in an open-air bazaar style market. Whether it was the popular breeds such as Musang King, D24 or the lesser known varietals, visitors had the opportunity to taste and buy them in one seating.
Durian by-products and durian saplings were also on sale for those interested in growing durian trees in their own backyards.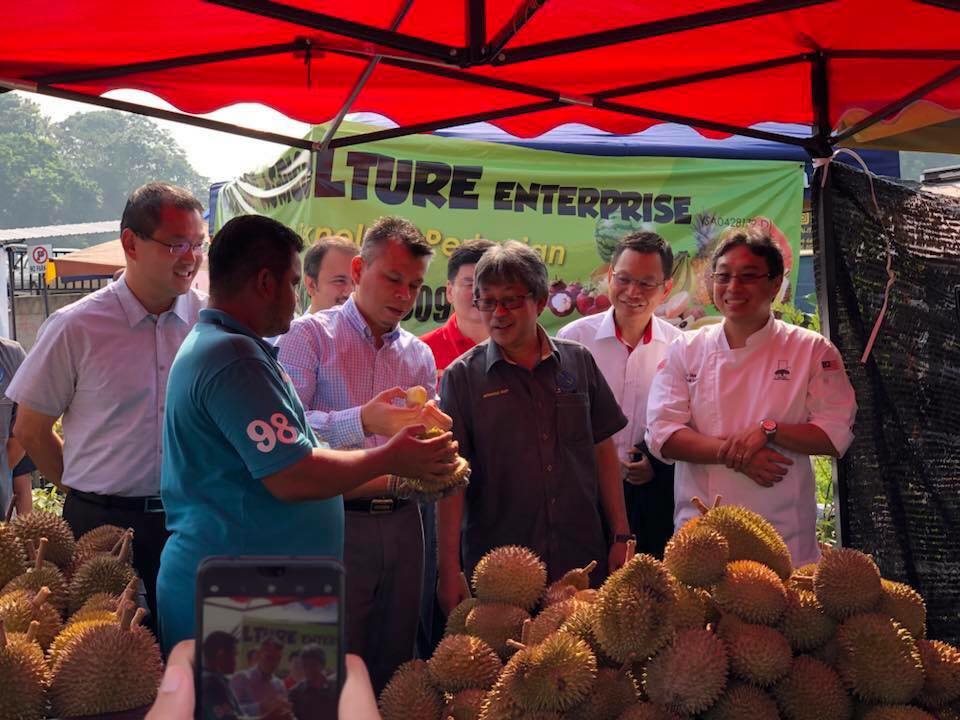 Durian Fiesta
In the evening, the durian degustation featured the top 3 award-winning durians from each category at the World Durian Championship 2018: Malaysia Edition. For the price of RM250, durian lovers had the opportunity of a lifetime to taste the best of durians such as best Musang King, Blackthorn, Tekka and D24 at one go. As a special treat, Chef Eric Low, Chef-Owner of Lush Epicurean Culinary Consultancy and author of 6 cookbooks whipped up his latest delicacy for everyone to savour – Barbeque Durians!
Durian knowledge Forum
For durian producers and those serious about growing durians, there was a stellar line-up of practical workshop, where invited speakers who are expert in the field shared their knowledge. The speakers were:
Mr Hew Chen Choi – The founder of "AKU Semaian & Dusun Hew" with over 40 years of experience in the Durian industry.
Mr YW Too – A passionate planter and keen advocate of avocado planting s an inter-crop species within Durian plantations and orchards.
Encik Abd Rahman Johari – The main speaker who shared his knowledge and experiences concerning Thailand style Durian growing techniques with the Malaysian Durian famers. He is a Chemical Engineering graduate from Syracuse University, USA. His areas of specialization are fertilizer and pesticide applications.
The forum focused on Thai style durian growing techniques and their applications to growing Malaysian durian species like the Musang King and the Blackthorn variety. As Thailand's agricultural practice is amongst the best in the region, the organizer hopes that the cross pollination of information will inspire new ways of growing durians in Malaysia.
There was also a practical session as part of the knowledge forum where participants were given practical insights to planting durian. Ms Lindsay Gasik, also presented a talk about her book journey for the newly launched The Penang Durian Guide.